Is it me, or it is for real? Recently lying on my bed I was thinking of my childhood days. When we had a holiday the day at home was so long I could enjoy the weather in morning, roam around the markets, play with friends, seat and chat with parents and relatives. And after that too I use to long for the day to finish soon. And I use to long to grow big so that I am allowed to go here and there and now that I am grown up I go nowhere. But now today the days run so fast I have to be intentional to stop and really have to take time to enjoy and cherish such moments like enjoying the weather, roaming around freely without any plans. Before I use to long to finish the day, now I long that day stays for longer. I have juggled even to sit and write something like this.
When we call and meet people we say oh! Hows life been? I have rarely heard from someone that they are free? Everyone is busy from kids, to parents, from youth to elders; everyone is busy in something or other. I don't know we are busy in what, doing what, what are we running after?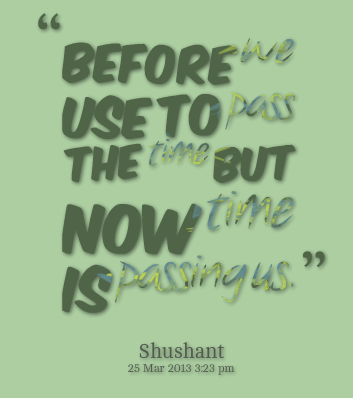 Before we use to pass the time but now time is passing us. But if I really think little deeper the time has really never changed. It's we who have changed. It's our priority, our responsibility, our availability, our way of managing things, our lifestyle this are the factors which makes us bound to things sometimes unnecessarily. We have become slaves to the things, technologies, products, vehicles, virtual world which we created to make things easier. But now they are consuming us rather serving us.
We should really give priority to people and the things we love, so that we really cherish every single moment of our life rather crying and begging for time everywhere. We should be less dependent on things and people, so that we use our own brain and body to enjoy rather than just doing the thing. Do we understand the worth of time in our lives? My friend was recently asking everyone how many hours do we sleep because he wanted to analyze how many hours are productive in our life. Thinking of it I was reminded that my sports teacher always use to say that half of our lives are spent sleeping, then rest few in eating, and dressing up and other daily routine we follow and so conclusions comes to that we have very limited time on earth and its important to realize how we are spending it?
What does the Psalmist have to say on this, Psalm 90:10 "
The years of our life are seventy, or even by reason of strength eighty; yet their span is but toil and trouble; they are soon gone, and we fly away."
And verse 12 says
"So teach us to number our days that we may get a heart of wisdom."
It's a reminder to us that we do not have eternity here on earth; therefore we should be wise and listen to God and gain wisdom from Him and use our time wisely, according to His will. And we are not slaves to anything because Jesus, only Son of God has set us free and if the Son has set us free indeed we are free. We are free from bondage and any kind of slavery but we are not freed to sin again if we look carefully its been demanded that our actions will change no longer do we live in same old patterns but now we live for the glory of God, as children of God. Carefully living as salt and light unto the world, reminding them of the Judgment day but by love we preach and live the gospel to save as many as possible.